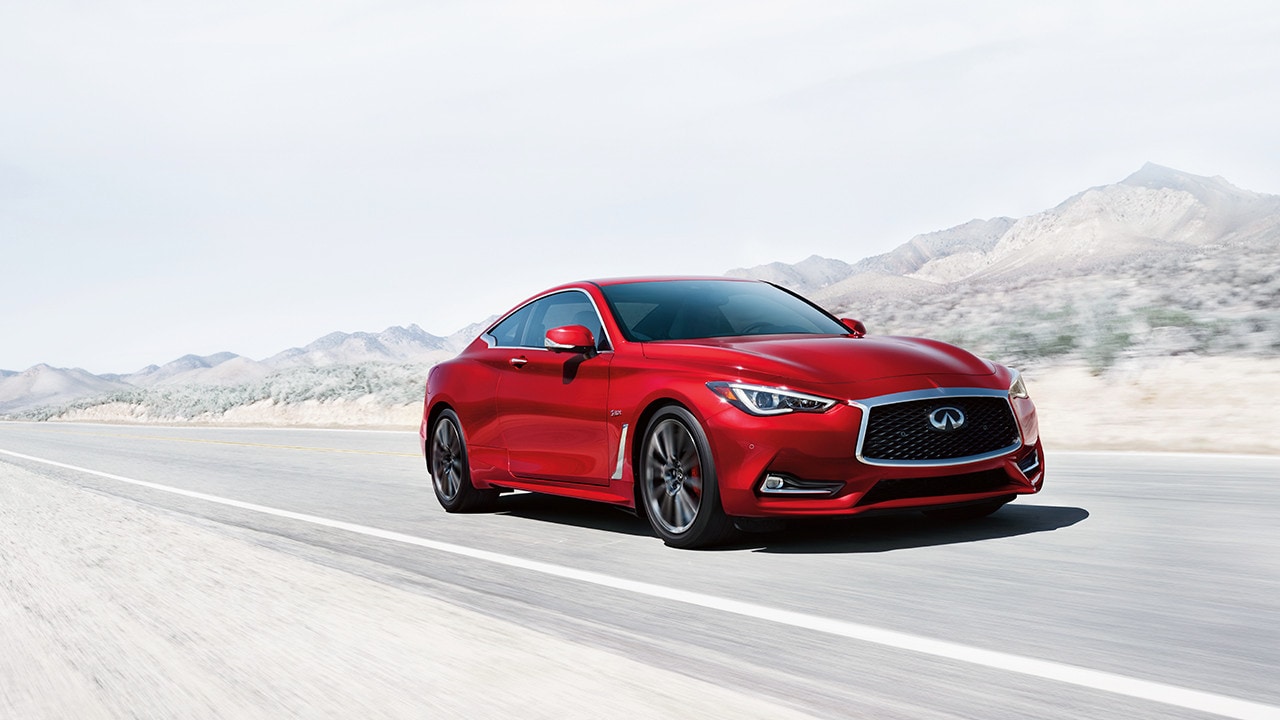 INFINITI stays true to their commitment to innovation and sporty designs with their all-new 2017 Q60 models. INFINITI has given consumers a wide range to choose from with 10 unique trims – from the standard Q60 2.0t with 208 horsepower with a 2-liter turbo engine to the all-new Q60 Red Sport 400 with a 3-liter 400 horsepower, twin-turbo V6 engine.
While each model proudly boasts both RWD and AWD capabilities, the details truly set the Q60 apart from the competition, grounding INFINITI as the premier four-seat, midsize sedan on the road.
Designed to Give You Control | INFINITI Q60
Fast, reliable, and more powerful than ever with the available 400 horsepower engine, the 2017 INFINITI Q60 coupe has been redesigned with style and speed in mind for drivers looking to boost the way they live and drive. Both inside and out, new additions, tweaks and improvements put the Q60 above their G-series models.
Power Up With Redesigned Engines
Three turbocharged engines include a 208 horsepower 2-liter turbo I-4 engine and a 3-liter twin-turbo V-6 with either 300 or 400 horsepower capabilities. Every model is fine-tuned for performance with a 7-speed automatic transmission. On the top end of the spectrum, the Q60 Red Sport trim comes with Intelligent All-Wheel Drive, electronically controlled 7-speed automatic Adaptive Shift Control (ASC) with dual automatic transmission fluid coolers and hill start assist for maximum engine power and protection.
Performance and Safety Feature Upgrades | Gain Complete Control
Every driver is different. New for 2017 are the redesigned Direct Adaptive Steering system and Dynamic Digital Suspension, which gives the driver complete control over how the Q60 handles. This gives drivers a Normal, Dynamic and Dynamic+ response range with terrain adaptive secondary settings including Normal, Sport, Sport+, Eco, and Snow.
Safety takes the front seat with the 2017 Q60 with adaptive cruise control, lane departure warning, automatic collision sensors, blind spot detection, and available multi-camera views for 360 degrees of control.
Did we mention that the Q60 looks great? The front fascia is sleek and ergonomic, giving it a luxury look with a sporty boost. What are you waiting for? Get behind the wheel today.
Finding Your INFINITI Q60 | INFINITI of Hilton Head in SC
Sleek, colorful, imaginative – the 2017 INFINITI Q60 is only a test-drive away from putting you in control. At
INFINITI of Hilton Head in South Carolina
, we can help you find your fit. Our expert staff is dedicated to best-in-class customer service and can answer all your questions about the Q60 and its features.